Chitosan is a natural dietary fiber that is derived from the exoskeletons of crustaceans such as shrimp and crabs. It is known for its various health benefits, including weight management, cholesterol reduction, and blood sugar regulation. But did you know that chitosan is also used in the food industry, particularly in bread baking and recipes?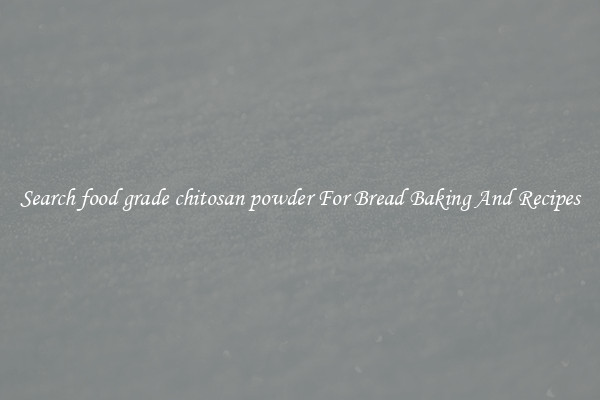 Food grade chitosan powder is a versatile ingredient that can be added to bread dough to improve its texture, increase shelf life, and enhance its nutritional profile. When chitosan powder is added to bread dough, it acts as a natural dough conditioner, improving the overall quality of the bread. It helps to bind water, which leads to better hydration of the dough and produces a soft and fluffy texture in the final product.
One of the major advantages of using chitosan powder in bread baking is its ability to increase the shelf life of baked goods. Chitosan has natural antimicrobial properties, which inhibit the growth of certain bacteria and molds. This helps to prevent spoilage and extend the freshness of the bread, allowing it to stay soft and mold-free for a longer period.
Furthermore, chitosan powder is also a popular choice among health-conscious individuals due to its dietary fiber content. It has been found to have prebiotic effects, meaning it acts as a food source for beneficial gut bacteria. This can improve digestive health and support a healthy gut microbiome.
So how can you incorporate food grade chitosan powder into your bread baking and recipes? It is important to note that chitosan is a soluble fiber, which means that it needs to be dissolved in liquid before adding it to the dough. To do this, simply mix the chitosan powder with warm water and let it sit for a few minutes until it dissolves completely. Then, add this mixture to your bread dough during the mixing or kneading process.
In addition to bread baking, chitosan powder can also be used in other recipes to add a nutritional boost. It can be added to soups, sauces, and smoothies as a thickening agent or to enhance the fiber content of the dish. You can even experiment with adding chitosan powder to dessert recipes like puddings and custards for a healthier twist.
When purchasing chitosan powder for food-grade use, make sure to look for products that are labeled as food grade and have been produced using safe and ethical methods. It is also important to follow the recommended dosage guidelines as excessive consumption of chitosan powder may lead to digestive discomfort.
In conclusion, food grade chitosan powder is a valuable ingredient in bread baking and recipes. Its ability to improve texture, increase shelf life, and provide health benefits make it a popular choice for both professional bakers and home cooks. So why not give it a try and see how chitosan powder can elevate your baked goods to a whole new level?